Hatchling Dragon
An Odyssey plush stuffed animal? You read correctly – Odyssey² Adventure magazine says, "This adorable plush Hatchling Dragon is a foot tall, bright green and yellow, and wears an Odyssey t-shirt. He'll make a great gift for any Odyssey fan! He's cute and cuddly, but watch out for his fire-breathing mommy!" Manufactured by Trudy Toys, a leading maker of stuffed toys in the 1980s. Founded in 1947 and based out of Norwalk, CT, Trudy Corporation manufactured other brand tie-in plushes as well, such as the Kool-Aid Man and Charlie the Tuna. The toy maker was liquidated in 2010. The Hatchling Dragon originally sold for $9.95 + $1.00 shipping & handling.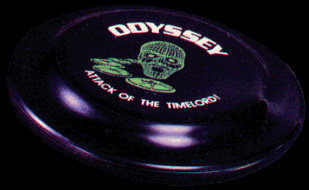 Attack of the Timelord Flyers
This is a very neat looking Frisbee-style flyer. It's made of glossy black plastic, with the words ODYSSEY and ATTACK OF THE TIMELORD! written in white. A picture of the Timelord with Time Ships flying around him appears, in green. Odyssey Adventure magazine says, "Put the Timelord of Chaos in orbit with this official Odyssey Attack of the Timelord flyer! Bright colors on gloss-black. Sturdy, high-impact polyethylene." Originally sold for $1.95 + $1.00 shipping & handling.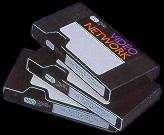 Update Tapes
Videocassettes available to retailers from the "NAP Video Network." The Selling Aids brochure says, "a 5-minute VHS tape that walks the consumer through the world of Odyssey hardware and software. A terrific sales tool!" I suppose they were meant to be shown in stores. What I would give to see one of these!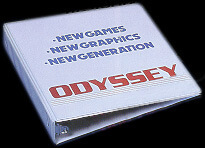 Odyssey Notebook
This appears to be a standard 3-ring binder with the Odyssey logo. The front reads, "New Games/New Graphics/New Generation." The Selling Aids brochure says, "Odyssey orange and white, 3-ring binders. Available in 1" and 1½" presentation sizes."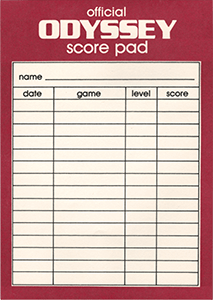 Official Odyssey Score Pad
Odyssey Adventure
magazine says, "Keep track of your highest scores with this handy Official Odyssey Score Pad. With a place for your name, the date, the game, the level, and your score! Use a different page for everybody who plays the game. Keep each page as a record so that you can chart your improvement." It came with around 50 sheets. Originally sold for $1.50 + $0.50 shipping & handling. This seems to have been one of the more popular premiums; while not common, it's not unheard-of to find Score Pads in secondhand Odyssey² lots. You might even find someone's scores from back in the day, like
this one
from a player named Steve, who recorded a handful of scores between 1984 and 1991. Think of it as a historical document!
German Munchkin Stickers
Large, circular stickers distributed in Germany to promote the upcoming release of one of the Munchkin games. Two varieties are known: the first shows a yellow munchkin and has a diameter of 5-⅜", the second shows a red munchkin and is 7-¾" in diameter. Both say "DIE MAMPFER KOMMEN!" ("THE MUNCHKIN IS COMING!") and "Neue Philips G7000-Cassette" ("New Philips G7000 Cartridge").