Rainbow of Fun Poster
"Enter the wonderful world of Odyssey² – A rainbow of fun awaits you."
Folded: 8.5" × 11". Unfolded: 17" × 22"
This poster was packed in with certain Odyssey² consoles. It lists every American release except K.C. Munchkin! and Power Lords!. Has an order form for games (You could get Conquest of the World!, Freedom Fighters! and Pick Axe Pete! for $69.95! Wow!).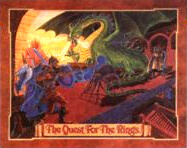 Quest for the Rings Poster
21" × 17"
Not of the box art, Odyssey² Adventure magazine describes it: "Big (21" × 17") Quest for the Rings poster is a full color rendition of a scene from the Quest, showing the Warrior and the Wizard battling a fierce dragon and a hideous Spydroth Tyrantula." Originally sold for $2.95 + $1.00 shipping & handling.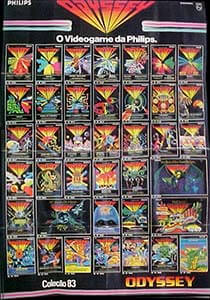 Brazilian Games Poster "Coleção 83"
110 × 73 cm
The "Collection 83" poster displays the box cover art for 39 Brazilian games, including the Master Strategy series games. Dida na Mina Encantada! is pictured, but none of the Brazil exclusives are included. The back of the poster contains synopses of the games.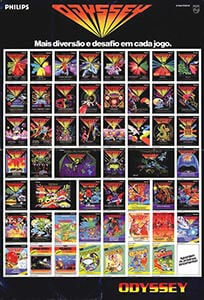 Brazilian Games Poster "Diversion and Challenge"
A later poster, probably from 1984 or '85, that promises "more diversion and challenge in each game." This poster pictures 52 games, including Serpente do Poder, Balão Travesso!, and the games licensed from Imagic and Parker Brothers.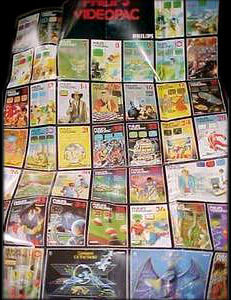 Videopac Poster
115 × 75 cm
Marco Kerstens describes this poster that shows the box art of Videopacs #1 - #43, Videopac A and the Chess Module. An advertisement for the Philips Videopac appears in 11 languages on the back.