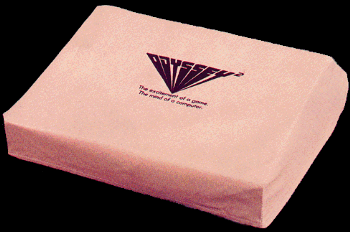 Canvas Odyssey² Dustcover
With logo and "The excitement of a game. The mind of a computer" slogan. Odyssey Adventure magazine says, "Keep your Odyssey mainframe free of dust and dirt with this durable canvas dustcover. Tan with Odyssey logo." Originally sold for $3.95 + $1.00 shipping & handling.
Odyssey² Protective Cover
By Classic Covers, Inc. You wouldn't want dust shorting out the awesome power of the Odyssey²'s massive electronic brain, would you? This brown, faux leather cover fits neatly over the machine. It features the Odyssey² logo and "The excitement of a game. The mind of a computer" slogan, used under license. Part number 22017.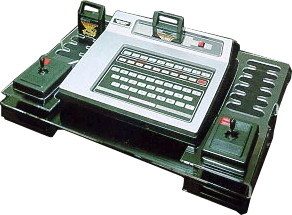 Odyssey Organizer
Odyssey Adventure magazine says, "Heavy, clear plastic Odyssey organizer is the perfect way to keep all your Odyssey gear in one place, ready for playing. Holds mainframe securely, with special slots for joysticks and a dozen of your favorite cartridges." The Selling Aids brochure says, "Sturdy, acrylic tray for the consumer. Holds mainframe and hand controls." Originally sold for $19.95 + $1.00 shipping & handling. Part #AB9274. Aaron Howald reports that the Organizers were made in Vermont by Acrylic Designs Inc., a company that produced similar units for Atari, Intellivision, ColecoVision, etc. These come up for sale only occasionally, and they usually fetch decent prices.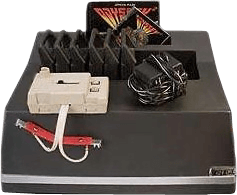 Vid-Lid Plus
This is a dark gray, hard shell plastic cover with silver trim that fits over the game console. Vid-Lid Plus units were made for several classic systems, including one produced specifically for the Odyssey². Vid-Lids have a slot to store game manuals and a larger recessed area that holds cartridges.
Videopac Cassette Box
A storage center for Videopac games. Marco Kerstens describes it as a "white cardboard box with black grip and lock... 14 × 22 × 38 centimeters." It contains a black tray to hold 10 games; without the tray the box can hold up to 15 games. "Philips Videopac Cassette Box" is written on it in black. Some Cassette Boxes feature a diagonal red " GRATIS" sticker that contains Dutch text in white lettering. The text reads "Bij aankoop van twee videopac-cassettes naar keuze - GRATIS" ("Purchase two videopac cassettes of your choice - FREE"). Apparently the Cassette Box was offered free with the purchase of two or more cartridges at stores in the Netherlands. Thanks to Dennis G. and Terry V. for the information and photo!
Videopac Collecting Box
Another storage center for Videopac games that is similar to the Cassette Box, but made of hard plastic rather than cardboard. It contains a black tray similar to the Cassette Box's. The Collecting Box is very rare; it was apparently sold for a very limited time, perhaps only in Austria. An advertisement for it appears in a 1985 issue of "G7000 Club News," the Austrian Videopac club magazine. The ad urges the reader to go to "your specialist dealer," which suggests that the Collecting Box was sold in stores. The legend across the lid of the box reads "The play – and learning world in the TV."
Videopac Carrying Case
A hardshell, black plastic suitcase-style carrying case for a G7000 and accessories. The interior contains berths for the console, joysticks, and cords. The outside features Philips logos and the legend "G7000 HOME VIDEO COMPUTER GAME." I suspect this item may have been available only in the UK, but this is unconfirmed. A very cool piece!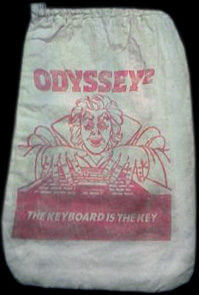 Wizard of Odyssey² Bag
Now here's an odd item. It's a drawstring bag made of cloth, featuring a red line drawing of the Wizard of Odyssey working his magic over a console. "The Keyboard the Key" slogan appears beneath the picture. Indications are that this item was given out by Philips at the Consumer Electronics Show, probably in 1982.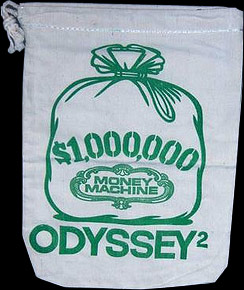 $1,000,000 Money Machine Bag
These were given out at a Consumer Electronics Show (probably 1981) to tie in with the "$1,000,000 Money Machine" contest being presented at the Magnavox booth. It's a small, white cloth (perhaps canvas) drawstring bag. It features a green drawing of a moneybag that says "$1,000,000" and "Money Machine" over the word ODYSSEY².