A rainbow of fun awaits you... on the World Wide Web!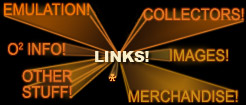 Here you'll find links to some of the better Odyssey² sites I've found on the Internet. Web sites tend to come and go; I prune this list from time to time, but don't be surprised if some links are no longer working. If you'd like your site to be linked here, please contact me.
K.C. Munchkin appears next to those sites that I personally consider to be the best sources of Odyssey² information.
---
If you'd like to link The Odyssey² Homepage! from yours, it would certainly be appreciated! If you prefer banners for links, here are two you may use. Thanks!
Url:
https://odyssey2.info/
---
Emulation
ROMs
As with any emulator, you will have to find game ROM images in order to use emulators. No ROMs are available on this site, but here are some other places you may find them:
Frontends
Emulator "frontends" are programs that make emulators easier to use. Currently there are three O2EM frontends available, but only O2EM Launcher works with the current version of the emulator.
Images
Also, remember to check the Media section of this site.
Merchandise
Collectors
Information
Odyssey² Information
General Classic Gaming Information
Other Stuff