REAL Sync-Sound Action!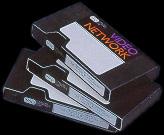 Promotional videos, TV commercials, gameplay clips, and more... this page serves as the repository for all the vintage Odyssey²-related videos I've been able to find. Many of these come from old videotapes that I digitized myself, while others turned up on YouTube or other sites. Enjoy!
Credits/Disclaimer
All of these clips are copyrighted by their original owners and are presented here for archival purposes only. The Odyssey² Homepage! makes no claims of ownership. No infringement of copyright is intended and any and all clips will be immediately removed at the request of the copyright holders.
Only vintage videos, produced in the era before YouTube, are included here. Of course, there has been no shortage of interesting (or not) Odyssey²-related "retrogaming" videos produced in recent years. Try searching YouTube for these if you're interested.
The videos are organized roughly by date of origin, although some dates are estimates. Many of the commercials and CES promo videos were originally provided to me on videotape by Jayson Hill. René van den Enden provided the Trans American Rally clip. Many of the clips from other sites have been cleaned up, but a link back to the original will be provided if it's still available.
---