Downloads related to Odyssey² emulation can be found on the Emulation Resources page.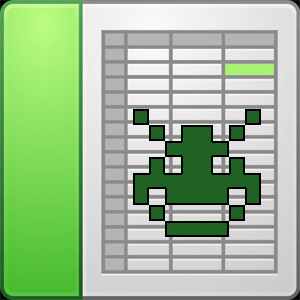 Collector's Checklist
This spreadsheet, in Microsoft Excel format, lists all American Odyssey², European and Jopac Videopac, and Brazilian Odyssey releases (label variations are not included). Print it out and use it to keep track of your collection!
Click here
to download (34 kb). Recent homebrew and reproduction releases are not included.
Based on a list assembled by Matt Pritchard.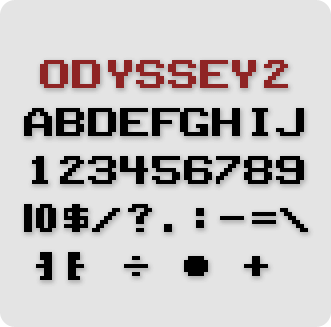 Odyssey² Font
Odyssey2
is a font created by Justin the Almighty that accurately recreates the built-in Odyssey² character set! It currently contains all the letters and numbers, plus a few symbols and punctuation marks. According to Justin, "It looks best when on a black background and at point sizes that are powers of two (8, 16, 32, 64)." I've also found it looks good at point sizes that are multiples of 10.
Click here
to download (2.7 kb).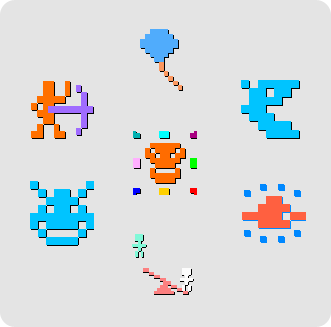 Marcelo Ribeiro's O2EM Icons
Here are some Windows icons perfect for shortcuts to O2EM games!
Click here
to download a ZIP file containing several icons (2.1 kb). These are 256-color icons. If your system won't support them, 16-color icons are available
here
(2 kb).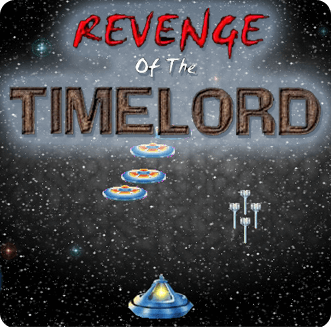 Revenge of the Timelord
Revenge of the Timelord
is a PC remake of
Attack of the Timelord
created by [ICON Software], released 1/8/2002. The game more or less catches the original's style and gives it a graphical facelift, but lacks the speed and energy of the Odyssey² game. It's a novelty, but worth a look.
Click here
to download (781 kb).
Game requirements: Windows 9x/Me/2k/XP, Pentium 233+, 32MB RAM, 4Mb video card, DirectX 7, and 4mb disk space. You may need to download the Visual Basic 5.0 runtime. Warning: this is an older application and you may have trouble getting it to run under Windows 10 or later systems. Thanks to Doug for finding this!