By Marcelo Ribeiro
Introduction and HTML by William Cassidy

Note: This FAQ is no longer maintained, and is presented here for archival purposes only.
Table of Contents
---
Introduction
We tend to associate the Odyssey² only with the United States and Europe, probably because Magnavox and North American Philips have primary ties to America and the Netherlands. But Odyssey² reached our friends in South America too.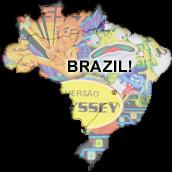 Marcelo Ribeiro, a Brazilian Odyssey² player, has been kind enough to provide me with this rarity list he has compiled for his home country. From what he has told me, I gather that the console was released in Brazil some years into its lifetime, as K.C.'s Krazy Chase! (Come-Come!) was released around the same time as the console was introduced. The console was known simply as the Odyssey since the Pong-like Odyssey consoles released in America were not released in Brazil. There does not seem to be any indication that an Odyssey³/G7400 console was released in Brazil.
In case you weren't aware, the official language of Brazil is Portuguese, thanks to colonization efforts a few hundred years ago. Sometimes the titles translate to be the same as their English equivalents; sometimes they don't. Where possible, we've included the literal English translations of the titles in quotes. You'll notice some big differences in rarities too: the Parker Bros. games are common down there! Marcelo himself owns all of them – even Popeye!
For his list, Marcelo used a typical "C/U/R/ER/UR" system. Games marked "UR/NR" may not be confirmed releases, but were described in Brazilian Odyssey catalogs.
Marcelo has done his best to determine if a Brazilian Voice module exists, and, thanks to his friend José Eduardo Pereira de Mello, evidence has surfaced that at least a prototype version did. It was seen at a 1984 Brazilian product exposition called "UD 84" which is somewhat similar to an American CES. At UD 84, Dynacom (who released Dynavision, an Atari 2600 compatible console) distributed flyers about The Voice. It was planned to be released in August of that same year, together with Sid the Spellbinder, Nimble Numbers Ned and Type & Tell.
Dynacom also claimed that it could be used together with the Philips games Batalha Medieval!, Come-Come!, Acróbatas!, Senhor das Trevas!, Tartarugas! and Abelhas Assassinas!. The Brazilian Voice module was seen there, in Dynacom's stand, being used with those previously-released Philips games, but no one remembers if the three new games were there as well. It now seems safe to say that "The Voice" was only a prototype, and the new games were never released (at least we haven't found them yet). This is confirmed in issue #12 of "Micro & Vídeo," January '85: in an article, they said that Dynacom never sold the Voice.
Philips also had a stand at UD 84, where they tried to hold people's attention by showing the Chess Module working with an Odyssey console. The Chess Module was the Videopac version. So, this raises some questions: Was Philips interested in seeing people's reaction to it to decide if they should release it in Brazil? Or did they just want to show off the "great Odyssey capacity," as part of their war against Atari? Marcelo and I think that Philips had a little of both goals in mind.
The magazine "Micro & Vídeo" also reported on a game that seems to have never been released, in issue #11. The game, A Turma da Mônica (literal translation: "Mônica's Gang"), would have been based on comics characters that are very famous in Brazil. There were drawings of 4 probable stages in the magazine, and also in the newspaper Folha de São Paulo, but no prototype has yet appeared. Set to be programmed in Brazil, this game would have been unique to that country.
Marcio Luz Scheibel, another Brazilian gentleman, has provided further information on the Odyssey² in Brazil. Most importantly, he provided scans of Comando Noturno, a game unique to Brazil that was unknown elsewhere until Marcelo first put this list together. At one time, Marcio thought he he spotted Tutankham for sale in Brazil, but has since realized it was Segredo do Farao!. Apparently, Tutankham really was never released anywhere.
In Brazil, all cartridges were numbered in this form: 06 AV 94##. In the list, cartridges are now sorted by their real number (if unknown, its number appears as 06 AV 94??). The numbers Marcelo has confirmed match the European Videopacs' numbers as well.
This list is no longer updated. You should also consult the Brazilian section of the Odyssey² Games Database for more information, and for screenshots and box scans of the games. Also, if you can read Portuguese, you should visit Marcelo'sOdyssey Mania [Archive link] web site.
If you would like to send e-mail to Marcelo Ribeiro, click here. Please note that neither Marcelo nor I have any new ROM images for the emulator.
---
Brazilian Odyssey Games by Marcelo Ribeiro
Rarity in Brazil:

C = Common
U = Uncommon
R = Rare
ER = Extremely Rare
UR = Ultra Rare
P = Prototype
NC = New Classic/Renamed Prototype
NR = Never Released/Unknown Prototype
All the games in Brazil were made by Philips, except:
The Voice module, Sid the Spellbinder, Nimble Numbers Ned and Type & Tell, by Dynacom;
A Turma da Mônica, by MSP/Gadgets.
Number
Portuguese Title
Equivalent
Rarity
06 AV 9400
Fórmula 1!/Interlagos!/Crypto-Logic!
"Interlagos" is the Brazilian Formula 1 circuit. This was the Brazilian pack-in as well.
Speedway!/Spin-Out!/Crypto-Logic!
C
06 AV 9401
Bacará!
Las Vegas Blackjack!
R
06 AV 9402
Futebol Americano!
American readers: what we call "soccer" is known everywhere else as "football." Other countries call our football "American football" to distinguish the sports.
Football!
U
06 AV 9403
Os Panzers Atacam!/Batalha Aeronaval!
Translation: "The Panzers Attack!/Air-Sea Battle!"
Armored Encounter!/Sub Chase!
C
06 AV 9404
Boliche!/Basquetebol!
Bowling!/Basketball!
C
06 AV 9405
Matemágica!/Jogo da Memória!
Translation: "Mathmagic!/Memory Game!"
Math-A-Magic!/Echo!
U
06 AV 9408
Basebol!
Baseball!
U
06 AV 9410
Golfe!
Computer Golf!
U
06 AV 9411
Conflito Cósmico!
Cosmic conflict!
C
06 AV 9412
Pegue o Dinheiro e Corra!
Take the Money and Run!
C
06 AV 9413
Acerte Seu Número!
Translation: "Guess Your Number!"
I've Got Your Number!
U
06 AV 9414
Invasores do Cosmos!
Invaders from Hyperspace!
C
06 AV 9415
Fliperama!
Translation: "Pinball!"
Thunderball!
C
06 AV 9416
Duelo no Velho Oeste!
Translation: "Duel in the Old West!"
Showdown in 2100 A.D.
U
06 AV 9417
Guerra de Nervos!
War of Nerves!
R
06 AV 9418
Esqui nos Alpes!
Alpine Skiing!
U
06 AV 9419
Acoplagem!/Resgate!
Translation: "Docking!/Rescue!"
Out of this World!/Helicopter Rescue!
C
06 AV 9420
Futebol de Salão!/Hockey!
Translation: "Indoor Soccer!/Hockey!"
Hockey!/Soccer!
U
06 AV 9421
Lógica Chinesa!
Though this title means "Chinese Logic" in English, it is the same as the American game Dynasty!, which is not the same as the European game Chinese Logic.
Dynasty!
U
06 AV 9422
Voleibol!
Volleyball!
C
06 AV 9423
Futebol Eletrônico!
Translation: "Electronic Soccer!"
Electronic Table Soccer!
U
06 AV 9424
Bilhar!
Translation: "Billiards!"
Pocket Billiards!
U
06 AV 9425
Pachinko!
Pachinko!
C
06 AV 9426
Caça Níqueis!
Translation: "Slot Machine!"
Casino Slot Machine!
C
06 AV 9427
Barricada!/Demolição!
Translation: "Barricade!/Demolition!"
Blockout!/Breakdown!
C
06 AV 9428
Alien!
Alien Invaders—Plus!
C
06 AV 9429
Em Busca dos Anéis Perdidos
Translation: "Questing for the Lost Rings"
The Quest for the Rings
ER
06 AV 9430
OVNI!
UFO!
C
06 AV 9431
A Conquista do Mundo
Conquest of the World
R
06 AV 9432
Macacos Me Mordam!
Translation: "Monkeys Bite Me!" Marcelo says that this phrase means "Make me believe" in Brazil.
Monkeyshines!
C
06 AV 9433
Criatividade!
Translation: "Creativity!"
Keyboard Creations!
ER
06 AV 9434
Wall Street!
The Great Wall Street Fortune Hunt
ER
06 AV 9435
Come-Come II!
Translation: "Eat-Eat II!" That's right – in Brazil, K.C.'s Krazy Chase! came before K.C. Munchkin!. Apparently the latter was released only after Come-Come! sparked a national "fever."
K.C. Munchkin!
C
06 AV 9436
Defensores da Liberdade!
Translation: "Freedom Defenders!"
Freedom Fighters!
C
06 AV 9437
Didi na Mina Encantada!
Translation: "Didi in the Enchanted Mine!" Didi was a popular character created by Brazilian comedian, Renato Aragão. Aragão played Didi on the television program "Os Trapalhões."
Pick Axe Pete!
C
06 AV 9441
Batalha Medieval!
Translation: "Medieval Battle!"
Smithereens!
ER
06 AV 9442
Come-Come!
Translation: "Eat-Eat!" The most famous game in Brazil.
K.C.'s Krazy Chase!
C
06 AV 9443
Acróbatas!
P.T. Barnum's Acrobats!
C
06 AV 9445
Senhor das Trevas!
Translation: "Master of Darkness!"
Attack of the Timelord!
C
06 AV 9446
Tartarugas!
Turtles!
C
06 AV 9447
Abelhas Assassinas!
Killer Bees!
C
06 AV 9448
Serpente do Poder!
Translation: "Power Snake!"
Power Lords
R
06 AV 9461
Bombardeio Submarino!/Tiro ao Alvo!
Translation: "Submarine Bombing!/Hit the Target!"
Depth Charge/Marksman
UR
06 AV 9462
Desafio Chinês!
Translation: "Chinese Challenge!" This is not Dynasty!; pictures prove it is equivalent to the Videopac game Chinese Logic.
Chinese Logic
UR
06 AV 9463
O Malabarista!/Jogo da Velha!
Translation: "The Juggler!/Tic-Tac-Toe!" Jogo da Velha literally means "Old Woman's Game" in English, but "Tic-Tac-Toe" is a more meaningful translation.
Catch the Ball/Noughts and Crosses
UR
06 AV 9464
O Segredo do Faraó!
Secret of the Pharoahs
UR
06 AV 9468
Telegrafista!
Translation: "Telegraph Operator!"
Morse
UR
06 AV 9469
O Gato e o Rato!
Translation: "The Cat and the Rat!"
Mousing Cat
UR
06 AV 9472
Super Bee!
Super Bee
U
06 AV 9473
Buraco Negro!
Translation: "Dark Hole"
Neutron Star
UR
06 AV 9474
Clay Pigeon!
So far, the only copies of this game that have been found are Brazilian releases. The game is available on the Odyssey² Multicart, and is basically a skeet shooting simulation.
No Equivalent
UR
06 AV 9475
Comando Noturno!
Translation: "Night Commando!" This game is unique to Brazil. Apparently, it was one of the last games released there. Click here for more information, and click here to read Marcelo's translation of an article about this game from Issue #8 of Odyssey Aventura, probably the last issue of that magazine.
No Equivalent
UR
06 AV 9476
Balão Travesso!
Translation: "Naughty Balloon!"
Loony Balloon
U
06 AV 9477
Barão Vermelho!
Translation: "Red Baron!"
Air Battle
R
06 AV 9481
Demon Attack
Demon Attack
U
06 AV 9482
Atlantis
Atlantis
U
06 AV 9483
Frogger
Frogger
C
06 AV 9484
Popeye
Popeye
C
06 AV 9485
Q*bert
Q*bert
C
06 AV 9486
Super Cobra
Super Cobra
C
06 AV 94??
Sid the Spellbinder
Sid the Spellbinder
NR
06 AV 94??
Nimble Numbers Ned
Nimble Numbers Ned
NR
06 AV 94??
Type & Tell
Type & Tell
NR
??
Chess
Chess Module
NR
??
The Voice
The Voice of Odyssey²
P
??
A Turma da Mônica
Translation: "Monica's Gang" – See the introduction.
No Equivalent
NR
New Classics and Renamed Prototypes
The following games were never officially released in Brazil. They include recently discovered prototypes, hacked versions of commercial titles, and original new "homebrew" games. Since they were never released in Brazil, they have no official Portuguese titles. However, Marcelo and his friends at Odyssey Mania [Archive link] have created "virtual" versions of what the games might have looked like if they had been released in Brazil, complete with Portuguese titles, made-up part numbers, advertising taglines, and virtual box art.
Number
Portuguese Title
Equivalent
Rarity
06 AV 9600
Come-Come das Trevas!
Translation: "'Eat-Eat' of Darkness!" A hacked version of Attack of the Timelord!
J.G. Munchkin!
NC
06 AV 9601
Fúria Assassina!
Translation: "Murderous Fury!" This translation is a little too literal; "Fúria Assassina" really just means the same thing in Portuguese as "Amok" does in English.
Amok!
NC
06 AV 9602
Interpol!
Interpol
NC
06 AV 9603
Pinball!
Pinball!
NC
06 AV 9604
Caçador de Tubarões!
Translation: "Shark Hunter!"
Shark Hunter
NC